Description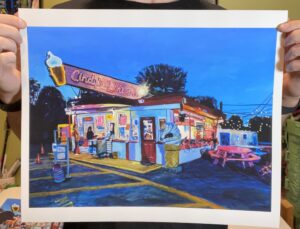 "Cindy's Drive-In" acrylic on panel, 12"x16"
Cindy's is iconic around here, and it's been a candidate for painting since the beginning. It looks best just after the sun sets when the neon is glowing, and the inside shines like a lighthouse against the black trees and field around it.
This painting was meant to be a quicker painting than September's month long painting. It was, because it took three days of painting, but those three days were spread out over almost two weeks.
So what happens when I start a painting and then look at it, and think about it in its ugly, unfinished stage for days on end?
Stress and fear. Stress that it's not being worked on, fear that I won't be able to finish it, fear because it's looked bad for so long, maybe it is bad. Maybe I'm bad.
There's a thing that happens that most people, including myself, don't fully understand. That is the feeling that I may not be able to do it again. That I won't be able to match the level of painting that I've reached in the previous painting. The longer I go between finishing and beginning a new one, the more doubt fills my head.
Throw that into the middle of a single painting, and it feels like nothing is working. A two week painting isn't supposed to look this bad!
All it took was one day of work to focus on it, realize what it was going to be, and let it be that. I thought I was going to hate this painting, but once it was finished I realized I'm happy with this three day painting that took two weeks.
#cindysdrivein #icecream #neonsigns #painting #americana #drivein #granby #granbyma #westernmass #newengland #Massachusettspainter