Description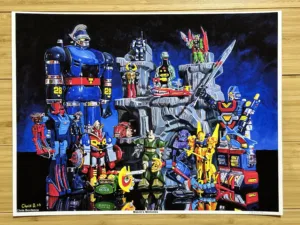 Mason's Memories – signed print 12"x16" – 100% cotton hot press archival
I'm honored to present this commissioned painting that is full of Japanese robots from the 80's. Each one of these awesome toys is tied to a special memory of the owner from when he was a kid. They represent more than badass robots and vehicles, they are talismans that reconnect the owner with family, friends, places, and specific moments from his life.
I based the layout out on the old Godaikin ads that feature black surfaces in front of a spacey backdrop. It was an exciting challenge attempting to fit everything in and be able to capture the necessary details of the intricate parts of each robot.
If you have a special collection of super cool toys that you'd like to commission me to paint. Message or e-mail me at [email protected]. I won't be painting any new commissions until June, but if it's a good fit, we can schedule something now for then if you're interested.
#tetsujin28 #gigantor #forcefive #shogunwarriors #gaiking #godzilla #zoids #battletech #robotech #japaneserobots #japanesetoys #robots #robottoys #80s #80stoys #toyart #stilllife #acrylicpainintg #art #bazoler #kargosaur #jetcar #shogunactionvehicles
#godaikin #bandai