"Defending the Castle" – Print 16″ x 16″ – Signed Archival Hot Press Paper (17"x17)
$75.00
"Defending the Castle" – Print 16″ x 16″ – Signed Archival Hot Press Paper (17"x17)
Villains became heroes, enemies became friends, and vice versa all to serve the ongoing narratives we created in our imaginations. The inspiration for this painting came back in July at a toy show where a vendor had randomly placed Castle Grayskull next to a Godzilla Shogun Warrior toy and I started imagining Godzilla attacking the castle.
I went straight to playing with my toys when I got home and eventually arrived at this set up. He-Man, Luke, Maxx Steele, Jetfire and Optimus Prime defend Castle Grayskull from the massive kaiju, possibly under the spell of Mumm-Ra, Hordak, & Hun-Dred. Are Gaiking and Mazinga there to help defend or are they also under evil control? And what's up with Frankenstein's monster?
I began painting this at the end of August. While fun, it was also a hard fought battle to get to the finish line. The past few months have been incredible, and also very time consuming. Painting a bit at a time whenever I can makes it difficult to get deep into a flow, and the more time that passes the less connected I start to feel to the piece. Luckily with this painting, each object has a special connection to me.
My grandmother gave me He-Man for Christmas. My parents gave me Optimus Prime. My mother surprised me with Gaiking in the back of our station wagon when I was 5. I put Jetfire on lay-away at Zayre and paid for it over time with my allowance. I bought the ship, Sky Arrow, from Mr. Big Toyland when it was going out of business in the early 90's. I never owned Castle Grayskull or Shogun Godzilla, but dreamt of what it would be like to have them. Everything here has a story, one that is connected to me, and millions of other stories connected to so many other kids. Those connections are why I paint what I paint.
2 in stock (can be backordered)
Description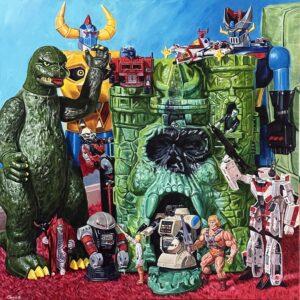 "Defending the Castle" – Print 16″ x 16″ – Signed and Numbered Archival Hot Press Paper (17"x17)